Eat, meet, share! 7 things you should know about Nibblr, the newest social dining experience.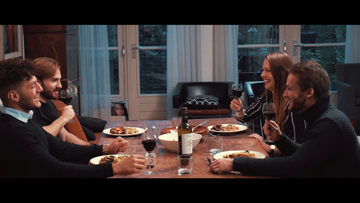 1. Nibblr is a social dining app that connects you to those offering homemade meals in your city Remember your first date at that one restaurant you love? Or Christmas dinner with your family? Think about it: the best moments in life usually happen around the dinner table. And we should create more of those! Dinner time should be a moment where we put the world on hold, even for a little while, and enjoy the food we're sharing with our company. Nibblr is a social dining platform on which you can sign up for a delicious home-cooked dinner in your neighbourhood. You can use the app to search for dinners offered in your city, ranging from a fabulous lasagna to Korean hot pots, and from vegetarian meals to barbeque cookouts. Simply sign up for the dinner of your choice, pay a small fee, and be surprised by the hospitality and cooking skills of your Nibblr host!

2. The idea of creating Nibblr was born Down Under While traveling around Australia for over two years, Yannick Kampschoer, founder of Nibblr, noticed how much his social life differed from his life back home in the Netherlands. "I stayed in a hostel, where I'd cook together with other travelers. Dinner time was usually my favourite part of the day: we'd be enjoying our home cooked meal while at the same time exchanging stories and creating unforgettable experiences. When I returned to the Netherlands, I immediately noticed how not everyone here takes the time and effort to create such moments. That's something I wanted to change". Fast forward two years, and here we are!

3. Social dining really is for everyone! Although Nibblr can be used to organize dinners for your family, co-workers, or group of friends, most dinners hosted on the app have a surprising mix of people coming to them. Who knew you'd share the same favourite book with someone half your age?! We've seen time and time again that the 'usual' barriers, like age, nationality, and occupation matter really little when everyone is sitting down and enjoying the same meal. Get all the inside information about life in the Netherlands, or share your experiences as an expat with others!

4. Don't like cooking? Join a dinner. Sometimes (or maybe at all times) you just don't feel like cooking, and that's okay! But why settle for a microwave meal when you can just join someone else's dinner and meet someone new in the community, maybe even around the corner from where you live? Founder Yannick, who also is the ultimate Nibblr veteran and has been to over 60 dinners, not once went home not feeling satisfied from eating a home cooked meal. "All hosts obviously want to organize a successful dinner, so they put a lot of effort into taking their meals to the next level".

5. Love cooking? Host a dinner. Nibblr is up and coming in the major cities, but chances are that there are only a limited amount of dinners available in yours. A perfect opportunity to organize your own! The great thing about the app is that you're able to customize all aspects of your dinner, like the date and time of a dinner, the price of a meal and the amount of guests that you want to invite. Maybe you want to share a national dish that you take pride in with others, or just create an opportunity to get together!

6. This app is seriously good for your health According to heaps of research, breaking bread together with other people, instead of eating alone, is one of the biggest contributing factors when it comes to happiness. Admit it, you're not going to remember that mediocre take-away you ate while binging on the latest episode of Suits. You are going to remember the meal you shared with a fantastic bunch of people on a 'regular' night!

7. Dining with strangers is fun! "There are no strangers here; just friends you haven't met yet". A little bit cheesy, we admit, but true nonetheless, right? Take this moment as an opportunity to connect with your neighbours, make new friends, business relations, love interests… Like the idea, but not a fan of the big unknown? The Dinner Chat feature is here to break the ice. Once you've joined a dinner, you'll be in a group chat with all other guests!